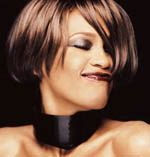 Video Whitney Houston from Youtube
What is going on with 'crack is whack' Whitney Houston?
The National Enrequirer says she's ballooned to 175 pounds from drug use and depression over her lackluster comeback. But I've been reading other reports that suggest she is on a streroid treatment from her doctor for breating problems.
And as anyone who has ever had to take any sort of steroid knows, that s*** bloats you out so fast you don't even know what happened. In just a few days you are walking around looking like you are wearing a Shallow Hal fat suit.
Source: www.hollywoodbackwash.com