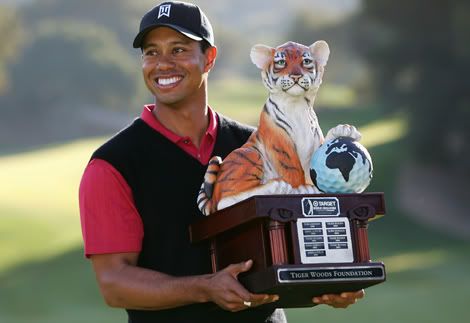 Click Video PGA Commish: Woods Returning to Therapy from Youtube
It turns out that Tiger Woods is on a break.

The embattled star will be returning to therapy after he addresses the media Friday,
according to a letter penned by PGA Tour commissioner Tim Finchem to the tour's policy board.
"As we understand it, Tiger's therapy called for a week's break at this time during which he has spent a few days with his children and then will make his statement before returnin," Finchem said in a letter obtained Thursday by the Associated Press.
"Accordingly, there was very little flexibility in the date for the announcement."
The PGA confirmed to E! News today that Woods left a treatment facility last week, though no one official has come right out and said he was being treated for a sex addition.
But that's where Woods comes in, right?
Finchem indicated earlier today that the golf great would clear up the whole rehab thing.
"This is the time frame that met with his rehab schedule, coming out for a little bit, being with his family for a little bit, doing this, it just worked," Finchem told ABC News earlier today.
"He got out of rehab last week, he spent some time with his family and he had some time for this tomorrow, and he'll address the details of that tomorrow. I should leave that to him."
E! News previously reported that Woods checked into Pine Grove Behavioral Health and Addiction Services in Hattiesburg, Miss., in January.
Aside from the pool of wire reporters, which will be missing three people after the Golf Writers Association of America declined to participate, CBS, NBC and ABC will carry the statement live, as will ESPN and the Golf Channel.
The Golf Channel, in fact, is starting its "pregame coverage" at 10:30 a.m. ET.
By: Natalie Finn, http://eonline.mobi