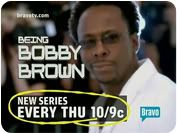 Bobby Brown was caught dancing to his own song, "My Prerogative" at The Chandelier Room in Hoboken, New Jersey - maybe that's part of his workout routine on the new "Celebrity Fit Club."
"Gossip Girl"s Leighton Meester was cryng at Coffee Shop in Union Square after getting a phone call that made her so happy tears began falling while she laughed and hugged boyfriend Sebastian Stan.
Paris Hilton and Doug Reinhardt spent last Weekend in Vegas at their favorite hotel, the Hard Rock.
While there they went to the pet shop, had a few romantic meals and then headed to nightclub Wasted Space Where her ex, Benji Madden was playing. Paris "bolted from the club" when she spotted Benji.
Sarah Silverman bowled a few strikes at the Project ALS benefit at Lucky Strike Lanes & Lounge in NYC, where Anne Meara stopped Sarah to say she Wishes she and Jimmy Kimmel were still together!
It was a sad homecoming for Hilary Rhoda, the face of Estee Lauder, when the Washington Redskins lost last week. She appeared as a guest commentator on the Redskins Kickoff show live from DC's FedEx
Field to cheer on her home team but they still couldn't pull out the win.
A "Twilight" reunion happened at the U2 concert in Los Angeles. Backstage in the BlackBerry VIP Lounge, Cam Gigandet was, spotted along with his old co-stars, Ashley Greene, Kellan Lutz and his girlfriend, AnnaLynne McCord.
Source: http://entertainment.blogs.foxnews.com